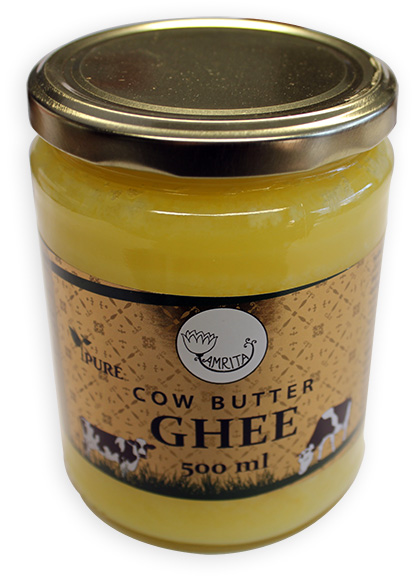 Pure Ghee Cow Butter
Clarified butter (ghee) is used as a food ingredient or a body care product in Ayurveda and aromatherapy.
Melted butter Ghee is produced by heating the butter over a low heat until all the water evaporates, milk solids separates, and butter turns into golden transparent oil. It is characterized by a sweet, delicate flavor of nuts. Food made with Ghee butter acquires a unique flavor and aroma.
Ghee butter is perfect for high-heat cooking due to its high smoke point: water (which boils at 100 °C ) is evaporated, and milk solids (which starts to burn at 125 ° C) are removed during the making process. Melted butter is ideal for sautéing, braising, pan-frying and deep-frying. For porridges, Ghee butter gives shine, for soups or sauces it provides a yellowish tint and improves the nutritional properties. Suitable for babies and children.
Ghee butter is known for its health benefits in Ayurveda.
Free shipping over £50
Big savings for larger quantities.
Spend £70 or more to get a 5% OFF Coupon
% This product is VAT free.
Out of Stock!
We can notify you when this product becomes available.
WARNING: even though the farmers and manufacturers put all the efforts to remove the seeds, stones or foreign objects from the product, some may remain, therefore, it is your responsibility to check the product before consumption or production. We will not be held responsible for any damage incurred by any seeds, stones or foreign objects found in the product. ALLERGENS: packed in an environment that also handles nuts, peanuts, sesame, seeds, gluten, soy, milk and sulphured fruits.